With a field including Aaron Judge, Cody Bellinger, Miguel Sano, and reigning Home Run Derby Champion Giancarlo Stanton, this year's competition is shaping up to be one of the best in years.  The bracket was released early today based on the seeding selection.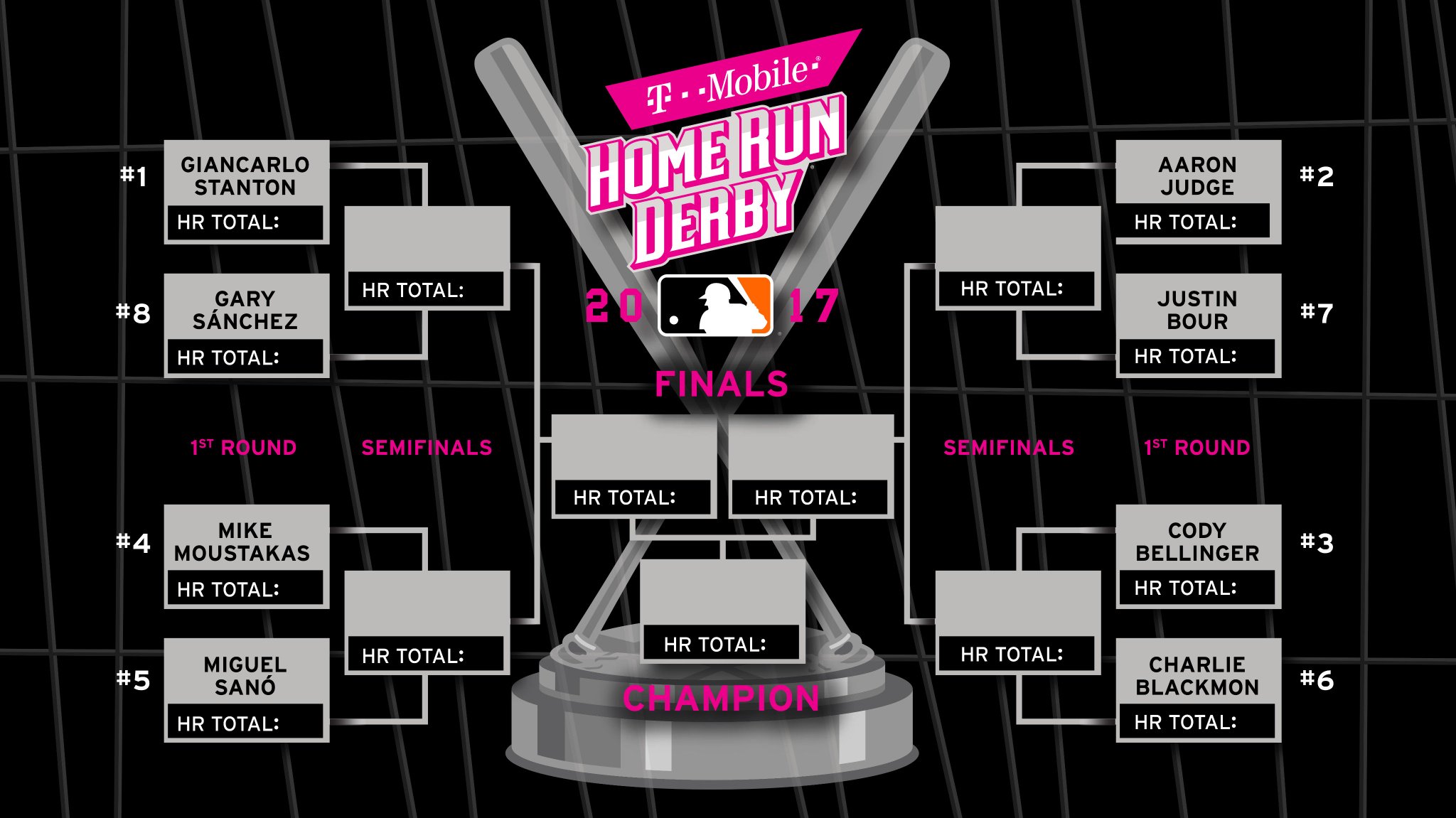 Each round is five minutes, with each batter having the right to a 45 second timeout whenever they choose.  Any home runs hit in the final minute stop the clock until the batter fails to hit a home run, so hot streaks late in the round are rewarded.  Bonus time can be earned for hitting two home runs over 420 feet, and one home run over 475 feet.  Any ties will be broken via a 90-second swing-off, with no timeouts or bonuses.  Another factor to keep in mind are the expansive dimensions of Marlins Park.
(1) Giancarlo Stanton vs. (8) Gary Sanchez
This one should be a slam-dunk for Stanton.  Playing in his home ballpark, Stanton will obviously be ready to go, and his unsightly power should help him hit both bonuses for an additional 90 seconds of time.  Gary Sanchez may put up a solid round, but he is no match for Stanton.
Stanton Advances
(2) Aaron Judge vs. (7) Justin Bour
The second Marlins-Yankees showdown may also seem like it has an obvious winner, but in reality, this could go either way.  Judge may have the strength to hit both bonuses and some balls over the statue in center, but he tends to hit a lot of his home runs to the middle of the field.  In the past, sluggers who don't pull the ball in the Derby have been less successful than players like Todd Frazier and Stanton, who hit nearly all of their home runs to left field.  Bour also has the advantage of knowing Marlins Park better, but Judge should still find a way to win given his monsterous strength.
Judge Advances
(3) Cody Bellinger vs. (6) Charlie Blackmon
With all due respect to Charlie Blackmon, the National League's best lead-off hitter, Bellinger is going to run away with this match-up.  Bellinger's long, lofty swing is catered to the Home Run Derby, and his tendency to pull the ball out to right field should benefit him throughout the night.
Bellinger Advances 
(4) Mike Moustakas vs. (5) Miguel Sano
If Miguel Sano played in Yankee Stadium instead of Target Field, this guy would be getting Judge-like praise.  He might have more power than anyone else in this field, and his home run into the Fountain Bar in Kansas City is proof of it.  Moustakas will keep it close, but Sano's ability to hit some tape-measure shots will allow him to move on.
Sano Advances 
SEMIFINALS: (1) Giancarlo Stanton vs. (5) Miguel Sano
If Sano instead was facing Bellinger or Judge here, I'd have him advancing to the finals.  His power is legitimate, but with Stanton being well-rested at this point in the tournament and trying to impress his home fans, Sano has slim-to-none odds of moving on to the finals.
Stanton Advances
SEMIFINALS: (2) Aaron Judge vs. (3) Cody Bellinger
Assuming my predictions come true, this should be the most anticipated showdown of the Home Run Derby.  On one hand, you have Yankees' superstar Aaron Judge, who has been the biggest story in baseball this year.  On the other hand, you have the second-biggest sensation in the game, Cody Bellinger, who has hit 24 home runs since his call-up on April 25th.  Both have insane power and potency.  I predict this will go to a swing-off, which will also end in a tie, leading to a second swing-off.  Bellinger will finally beat Judge in that tiebreaker, making for an exhilarating finish to the semifinals.
Bellinger Advances
FINALS: (1) Giancarlo Stanton vs. (3) Cody Bellinger
Beating Judge should take everything Bellinger has, and his long swing could tire him out, especially if he makes it this far.  Stanton should easily make his way to the finals, which gives him a considerable advantage.  Just as Todd Frazier did in 2015, Giancarlo Stanton will win the Home Run Derby in front of his home crowd, and become the first player to win back-to-back Home Run Derbies since Yoenis Cespedes.
GIANCARLO STANTON WINS THE 2017 T-MOBILE HOME RUN DERBY